Compactor Services

SWS offer a range of different compactor sizes to suit your needs. A site assessment will be required by our specialist engineers before agreement, order and implementation to determine the most suitable combination of compactor and bin size.
The material can be fed via auger compaction or blade compaction.
SWS can custom build units to your requirements in the following options:
Stationary Compaction Unit
The Stationary Compaction Units are specifically designed for businesses, which produce large volumes of non-putrescible waste or cardboard. The compactors consist of a compaction unit and a separate bin, which is pulled away from the compaction unit for transport and disposal.
Integrated Compaction Units
The Integrated (all-in-one) Compaction Units are designed to prevent the egress of liquid from compactor tanks when they are disassociated from the compaction unit for emptying. This ensures the hygienic storage of putrescible waste in areas demanding high standards of public amenity (e.g. restaurants, retail shopping centres & food courts, etc).
The integrated units are fully sealed with all liquids retained in the machine. This keeps odour to a minimum and ensures appropriate containment and disposal of any liquids generated.
Standard Features:
Australian designed and manufactured
All units comply with relevant Australian standards including relevant safety cages for operation
All safety requirements are fitted standard, with full training and induction supplied by SWS Engineers.
The units can be hand loaded;, fitted with a bin lifter for the use of 240l, 660l and 1100l wheelie bins;, set up for tippler feed, or even conveyor fed with site integration.
All compaction units requires a minimum 415v, 20amp, 3-phase power with neutral and earth operation, via an approved outlet
A 150mm thick concrete slab is recommended, 10m long x 4m wide. When the compactor is removed for servicing, this area can be thoroughly cleansed.
The unit can be painted in standard colours or sign written to your specifications and corporate colour schemes.
Additional Feature Options:
SWS have the capability to provide the technology in the form of new equipment, including the analytical tools, alarms, alerts and reports available to optimise collections and transportation costs.
SWS equipment can have the capablity to include the benefits of tenant specific waste. Pricing for this option is dependent on quantities for user access. The systems are currently available and can be introduced at commencement and provided as part of a total waste service offering.
Features: 
Includes Smart Technology: SMS Technology – Record in reporting "3/4 Full" and "Bin Full" status emails to customers and end users. Determines machine faults & breakdowns, with the ability to send email alerts to nominated recipients should a machine have a fault or require remote changes and adjustments that may be required to the settings. It will even notify of a complete power failure with the optional UPS battery backup.
The option for weighing systems are extremely versatile and customisable to suit virtually any customer/site specific needs. The screen is a 10.4″ touch-screen panel, which will replace our existing control panel, and have the ability and functionality to weigh, record, report, store customer-by-customer and operate the compactor and lifter via swipe and/or pin number, customer name or number, however you want it set up.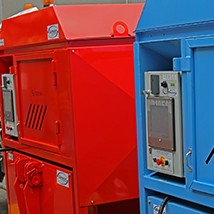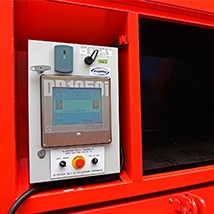 Our Services